TrekTag Data Loggers
Track the Trek with Quality Assurance, Safety, and Peace of Mind
TrekTag NFC Temperature Data Loggers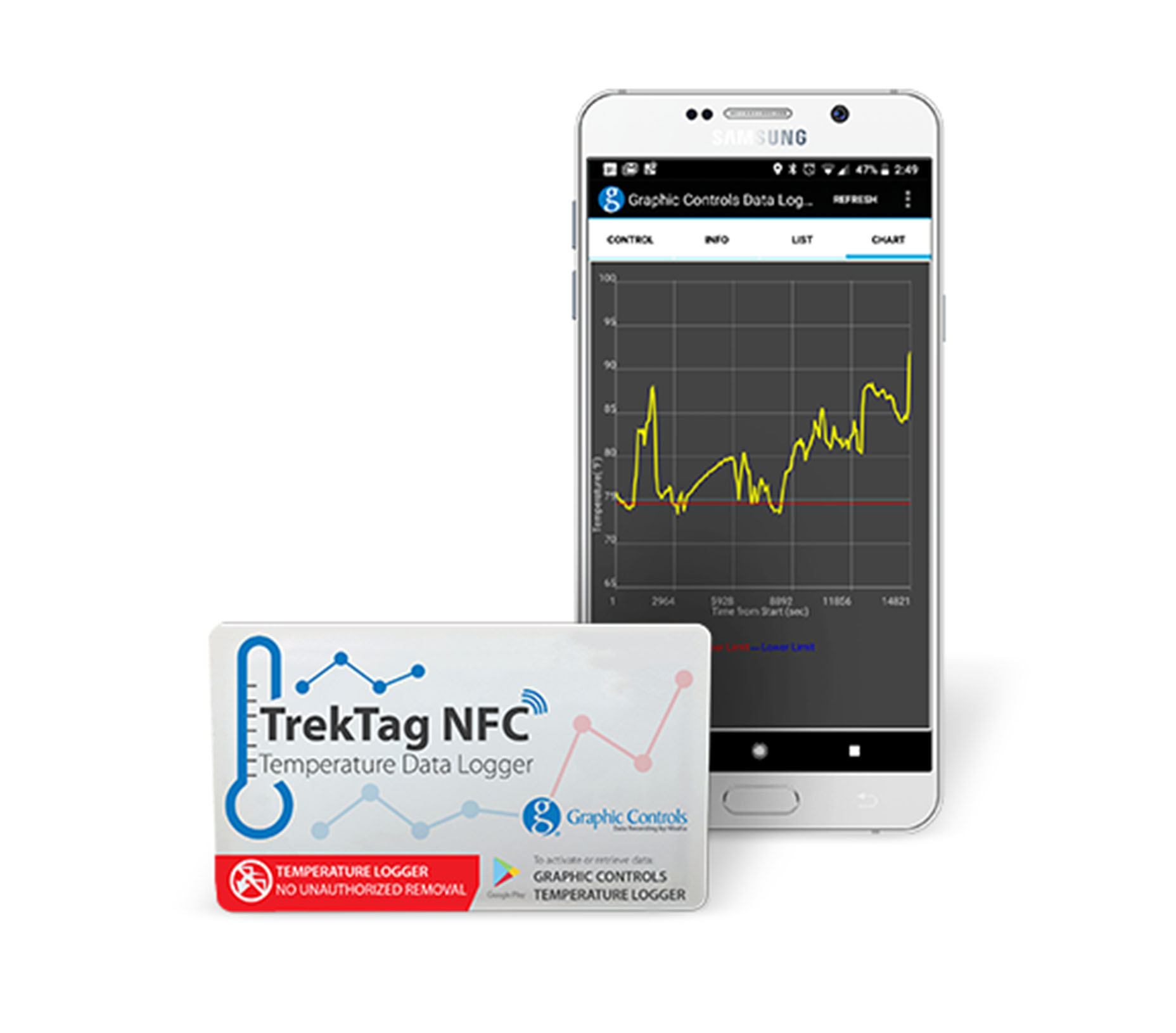 Are you covered?
Perishable goods can spoil a supply or distribution channel. For over 60 years, Graphic Controls has provided solutions to record and interpret temperatures, serving industries such as food and beverage, floral and pharmaceuticals.

TrekTag® NFC Temperature Data Logger is designed to bring reliability and peace of mind to the customer who requires temperature data they can use focus on their brand, their customers and their bottom line.

We've paired TrekTag® NFC with an easy-to-use smartphone application and a convenient cloud platform. This package provides a complete temperature data logging solution.
Reliable Data Logging:
Scan the TrekTag® using your android device. Get an instant report on your smartphone. Upload to the cloud to access from anywhere.

TrekTag NFC Temperature Data Logger

Designed to bring reliability and peace of mind to the customer
Last Edited: 3/26/2019
Download
Visit Webpage
TrekTag NFC Informational Video
Simple Activation

Download the app from the Google Play store on your android device
Select from a preset profile or customize
Set up recording interval
Add shipment notes
Cloud Storage

Easily accessible platform for data management
Unique ID number allows for traceability through supply & distribution chain
Customized user profiles to allow and/or restrict access
Track scanned updates via programmable alerts
Strong Battery Life

Printed battery technology gives long life without the bulkiness of a traditional battery.
Food Grade Adhesive

Allows the shipper to attach to the shipping container without the worry of separation in transit.
NFC

Activate/Read/Share shipment data from anywhere leveraging your current mobile device network
No P.C., Wi-Fi, proprietary scanner or USB docking station needed
Disposable

Eliminates the need to return physical equipment
Does not contain any heavy metals
Device Requirements
Android Operating System - 4.4 or Higher
NFC capabilities built in
Specifications
Temperature Accuracy
+/-0.5C Typical; +/-1.5C Max
Temperature Range
-20C to 50C
Temperature Recording Frequency
Every Minute
Every 5 Minutes
Every 15 Minutes
Every Hour
4 Times per Day
Recording Life
14.5 Hours
2 Days & 19 Hours
8 Days & 7 Hours
33 Days & 7 Hours
200 Days