TrekTag Data Loggers
Track the Trek with Quality Assurance, Safety, and Peace of Mind
Make Educated Acceptance or Quarantine Decisions
TrekTag USB Temp/RH is a revolutionary, multi-use, user programmable, electronic temperature data recorder specifically designed for measuring temperatures during the transportation of refrigerated vaccines, biological material, chemicals, pharmaceuticals, and for documenting the transportation of perishable commodities. TrekTag USB Temp/RH is NIST-Traceable and come with Certificates of Conformance.
TrekTag USB Temperature & RH Diagram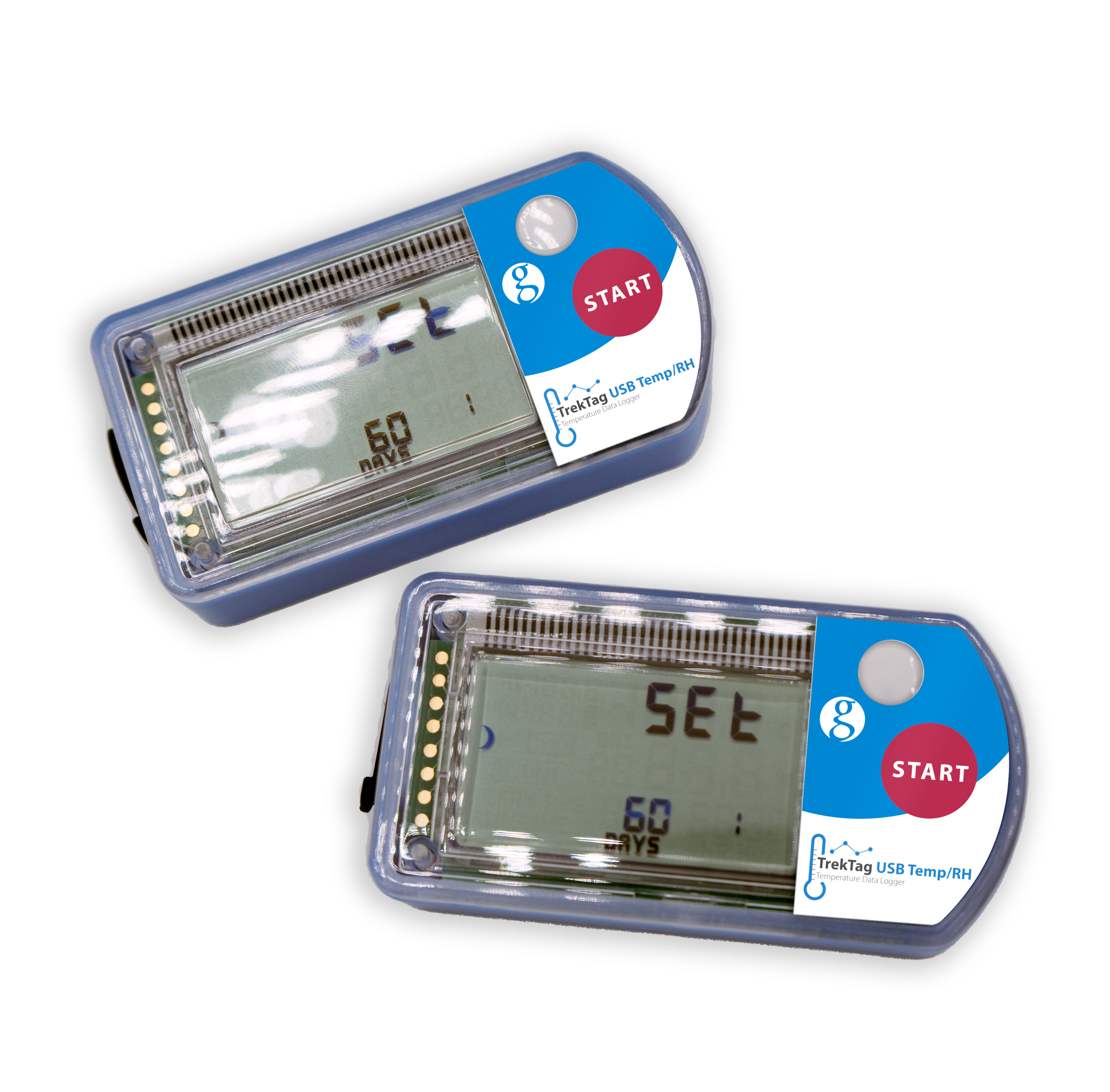 Features
Internal Thermistor
Accurately records time and temperatures for user selectable readings in Celsius or Fahrenheit.
LCD Display
Real-time viewing of current temperature, max/min temperature, relative humidity, run time, alarm status and recording
Small Form Factor
TrekTag USB Temp/RH has an extended battery life and can endure rough handling. The internal software records the following: time mechanism, start time, sampling intervals, end description for special instructions, alarm values, recording status, measurement data, software version, serial and tracking number, model type and after the fact report generation options.
Visual Alarms
All our data loggers can be programmed with alarm limits. Should temperature reach levels outside these limits, the LCD will display "ALARM". To start the recorder, simply press the start button!
Computer Ready
The easy-to-use TrekTag USB software is available for Microsoft Windows 7, 8, 8.1, and 10. Simply plug the unit into a standard USB port on your PC. The software and USB Cable are available separately.
TrekTag Cellular Specifications
| | |
| --- | --- |
| Usage Type | Single Use |
| Inner Lithium Battery | Built-in 3.7V/3000mAh Lithium Battery |
| Working Life | Max 60 days |
| Accuracy of Temp and Humidity Sensor | Temp: ±0.3°C; Humidity ±3%RH |
| Working Temperature Condition | -20°C to 60°C |
| Working Humidity Condition | Up to 85% (non-condensing) |
| Usage Type | Single Use |
| Usage Type | Single Use |
| Transmit Interval | 15mins |
| Dimension | 90mm * 64mm * 27mm (3.54in * 2.52in * 1.06in) |
| Net Weight | 138g |
| Tracking Platform | graphiccontrols.com/TrekTag |
Software Highlights
Easy-to-use software provides clear graphs. Report Summary & Statistics File Manager, Note Attachment, Zoom, Elapsed Time or Date/Time View, Recorded View, Celsius or Fahrenheit. Data can be exported to other Windows programs such as spreadsheets, word-processing or databases. Available for Windows 7 & 8.1 and 10. An Enterprise Software version and 21CFR Part 11 Compliant Software are available.