Chart Drives & Recorder Parts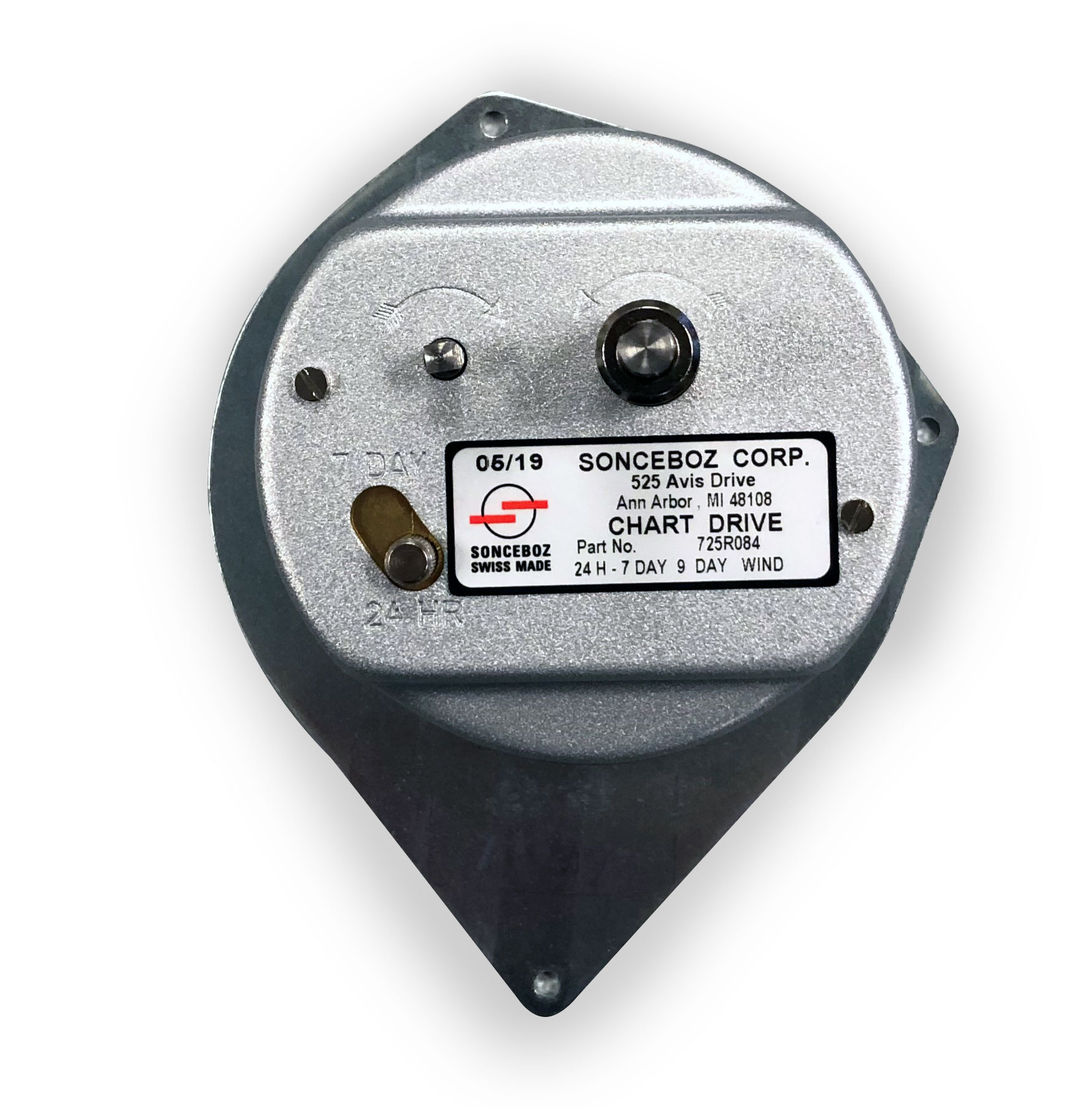 Whether in your rental fleet or stationary at the wellhead, rest assured that Graphic Controls has the parts required to keep your barton style field recorders in top performance.
Don't see what you're looking for? Please contact us with your specification so we can help to source from our many partners in the industry.
Barton Field Recorders - Replacement Drives
| Item # | Description | More Information | Order |
| --- | --- | --- | --- |
| 32029879 | SBZ-SONCEBOZ 820R001 BATTERY CHART DRIVE UNIV CCW | Product Details | |
| 32029878 | SBZ-SONCEBOZ 830R001 FAST/SLOW CHART DRIVE (CCW) | Product Details | |
| 32031252 | SBZ-SONCEBOZ 820R029 BATTERY CHART DRIVE UNIV CCW | Product Details | |
| 32040994 | SBZ-SONCEBOZ 725 G190 CLIP-DOWN GREEN CHART HUB | Product Details | |
| 32025009 | SBZ-SONCEBOZ 725R084 MECH CHART DRIVE 24H/7D(CCW) | Product Details | |
| 32031251 | SBZ-SONCEBOZ 725R077 MECH CHART DRIVE 2H/8H (CCW) | Product Details | |
| 32031431 | SBZ-SONCEBOZ 725R081 MECH CHART DRIVE 4H (CCW) | Product Details | |
| 32031434 | SBZ-SONCEBOZ 725R127 SONCEBOZ CHART DRIVE | Product Details | |
| 32031440 | SONCEBOZ 725R189 MECH CHART DRIVE 24H (CW) | Product Details | |
| 32031441 | SBZ-SONCEBOZ 820R005 SONCEBOZ CHART DRIVE | Product Details | |
| 32031444 | SBZ-SONCEBOZ 820R006 SONCEBOZ CHART DRIVE | Product Details | |
| 32031445 | SBZ-SONCEBOZ 820R007 (FOXBORO) CHART DRIVE (CCW) | Product Details | |
| 32031446 | SBZ-SONCEBOZ 820R018 SONCEBOZ CHART DRIVE | Product Details | |
| 32031447 | SBZ-SONCEBOZ 820R021 SONCEBOZ CHART DRIVE | Product Details | |
| 32028312 | PEW-WILSON INSTRUMENTS W253 SLOW CHART DRIVE KIT (24HR&UP) | Product Details | |
| 32028344 | PEW-WILSON INSTRUMENTS W253 SLOW CHART DRIVE MOVEMENT ONLY | Product Details | |
| 32028345 | PEW-WILSON INSTRUMENTS W253 PROG CHART DRIVE HUB ONLY | Product Details | |